CREATE GREAT CUSTOMER EXPERIENCE THROUGH ONLINE AND IN-PERSON MEETINGS
The way you care about your customers' experience and nurture relationships with them defines your organization. Create memorable and engaging experiences for your employees, buyers, vendors, partners and investors to achieve business goals and grow your business. Meetings and events are a crucial part of every enterprise, we will be there with you all the way.
CORPORATE COMMUNICATION
Online and in-person meetings help to prevent communication chaos. Well prepared information and moderation of a meeting, real-time update, engagement and networking nurturing, as well as feedback collecting constitute the foundation of great organizations.
Shareholders, Board and Managers meetings
Leadership meetings
Product launches
Meetings with investors
Incentive meetings and corporate retreats
Results overview
Conferences
MARKETING AND SALES
Generate better leads and grow your sales pipeline. Nurturing engagement via online and in-person events helps you connect and exchange experience between your customers, experts and employees. It all adds up to better brand promotion on the market.
Customer events
Lead generation
User conferences
Sales training
Trade shows
Networking meetings
HR AND RECRUITMENT
Recruitment events give you access to a large group of candidates. Virtual training and workshops support continuous personal and professional growth of your employees, but they are also a great tool to build brand awareness.
Recruitment events
Workshops
Certification and onboarding training
GROW YOUR BUSINESS THROUGH EVENTS

Eventory tools will help you manage the processes more effectively and meet goals defined for your events. Learn how it can change your marketing, sales, HR, employer branding and the whole corporate culture. With Eventory you will:

Streamline the event organization process and improve internal communication in your company.

Measure your events and collect valuable data you need to make better business decisions.

Reduce event organizational costs, go with a more eco-friendly approach by limiting printed materials and save your employees' time and nerves while working on events.

Reduce Event Managers' turnover rate (it's the 5th most stressful job in the world!).

Improve the efficiency of your events, build an image of an innovative employer and support the company's culture by using highly effective events.
Build and nurture stronger relationships with your customers and business partners that will contribute to your success.
EVENTS IN-PERSON VS ONLINE
Events, whether it's a conference, team or board meeting, corporate retreat or workshop, have a very similar organizational process. You take the same steps to make them happen, it's only the location that varies - from a conference room, hotel to a streaming platform. Make sure you take care of both, online and offline, processes in your event marketing.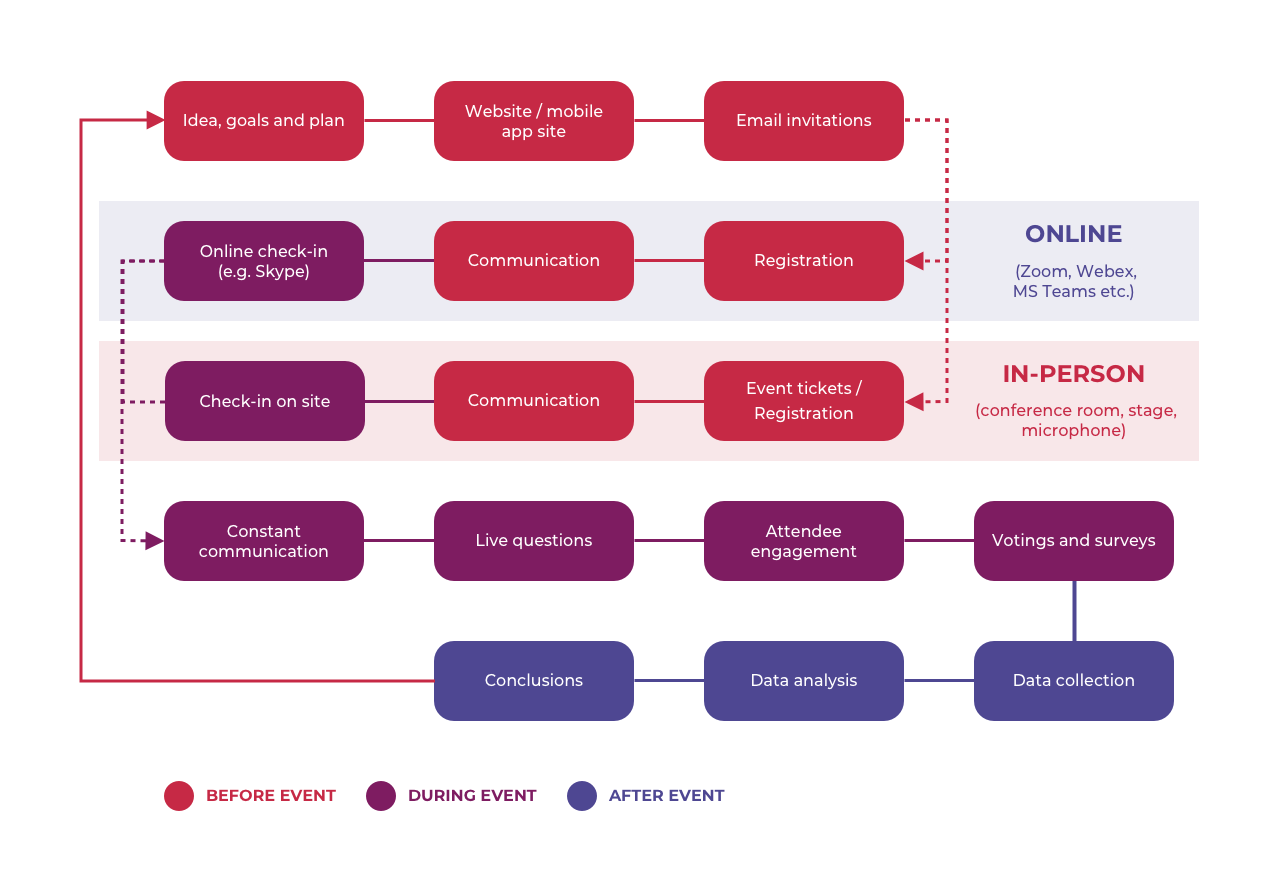 EXPLORE EVENTORY'S SOLUTIONS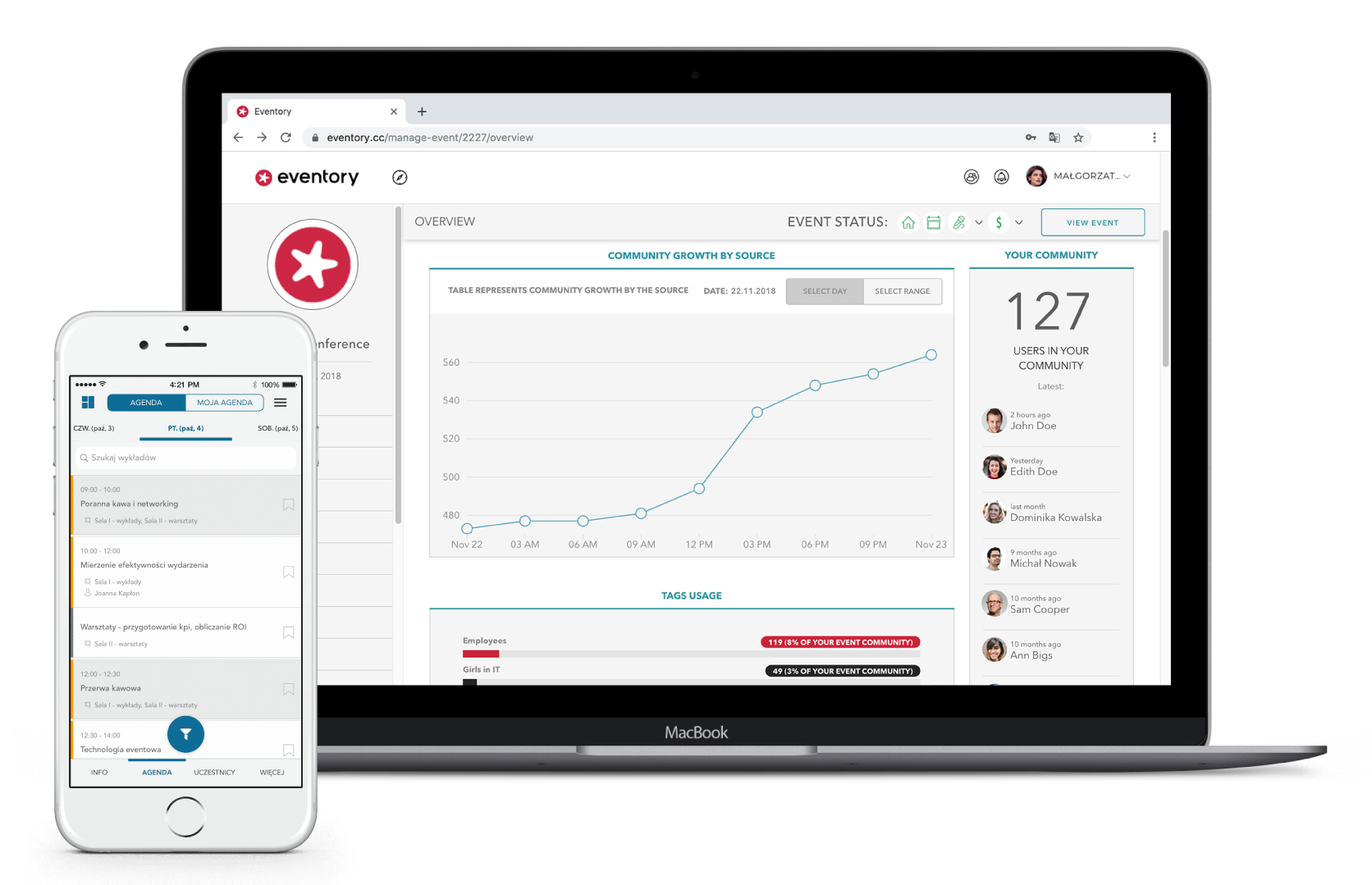 COMPREHENSIVE
ALL-IN-ONE PLATFORM
(IN-PERSON & ONLINE)
Eventory ecosystem contains all necessary tools and it constantly evolves - this way you're always keeping abreast of event marketing trends.
MEANINGFUL ATTENDEES ENGAGEMENT
Engage your attendees in competitions, voting, live Q&A sessions, follow the media coverage of the event with social stream and award the most active participants.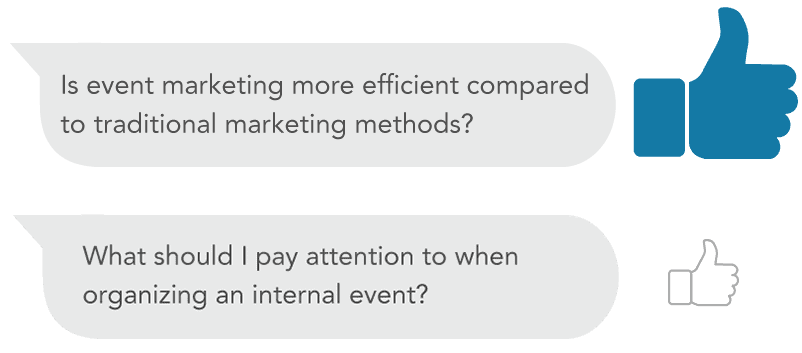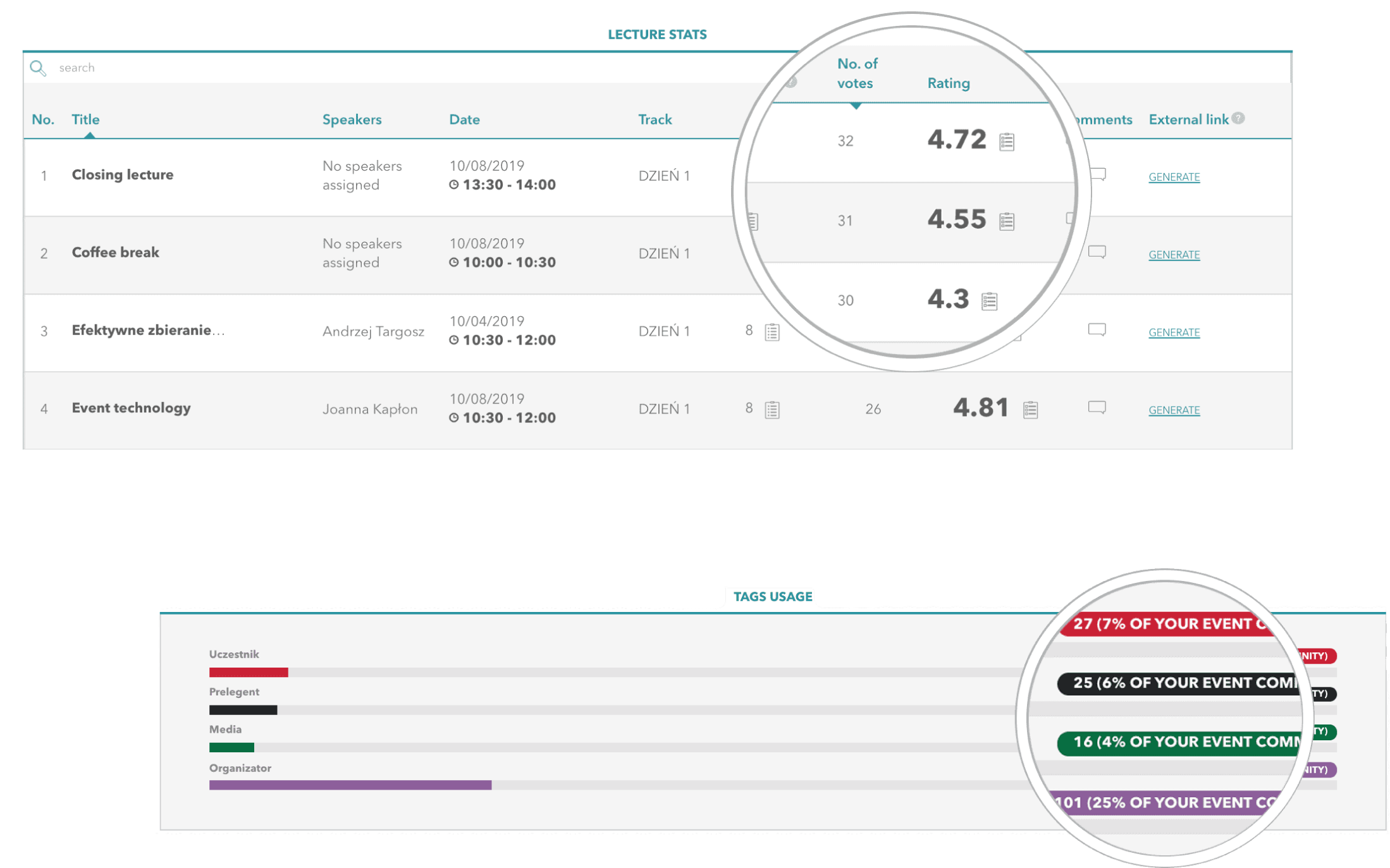 ATTENDEE EXPERIENCE ANALYTICS & REPORTING
All data from your events is gathered automatically so you can always keep track of statistics. An easy reporting process allows you to effectively evaluate your events' performance.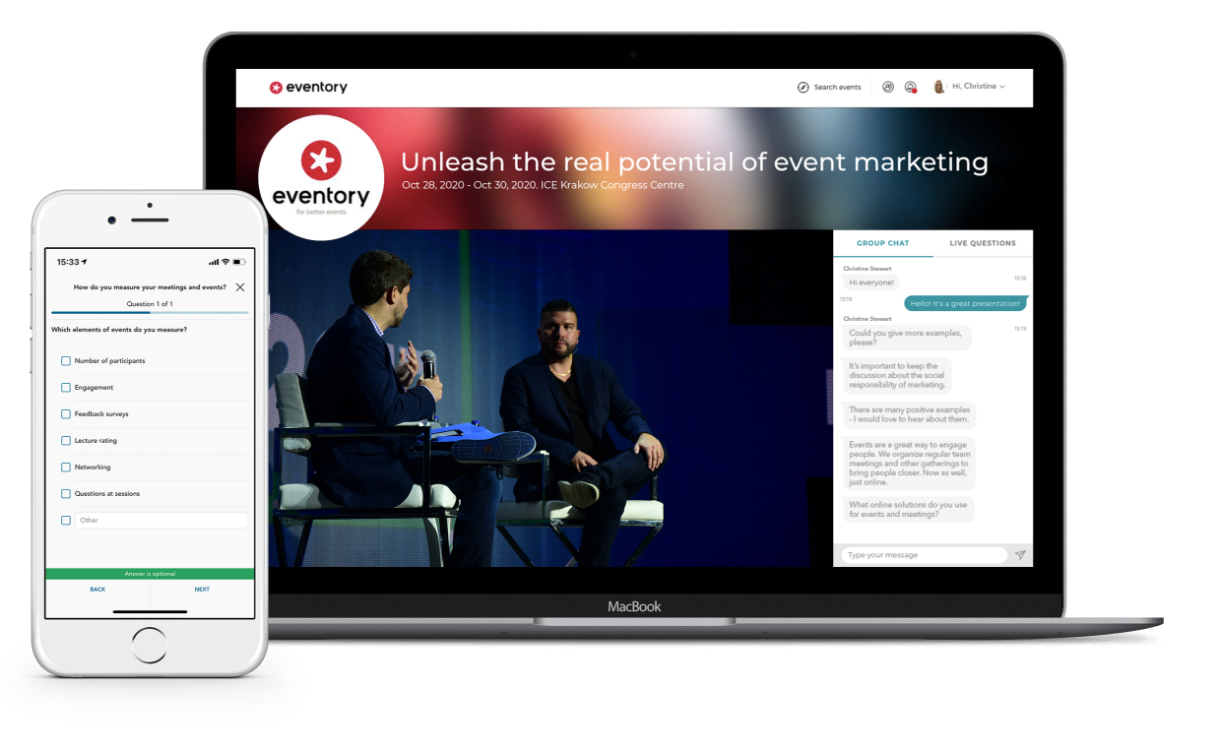 GREAT ONLINE EVENTS AND MEETINGS
We support you in all types of events and meetings - online, in-person and hybrid. You can choose the right online solution for you, engage your attendees and collect valuable data.
NO MORE IT SUPPORT NEEDED
(EASY TO CREATE EVENT WEBSITE,
MOBILE APP, SCHEDULE ETC.)
With our intuitive platform, you will quickly create a website, integrated with the Eventory mobile app, containing all key information about your event.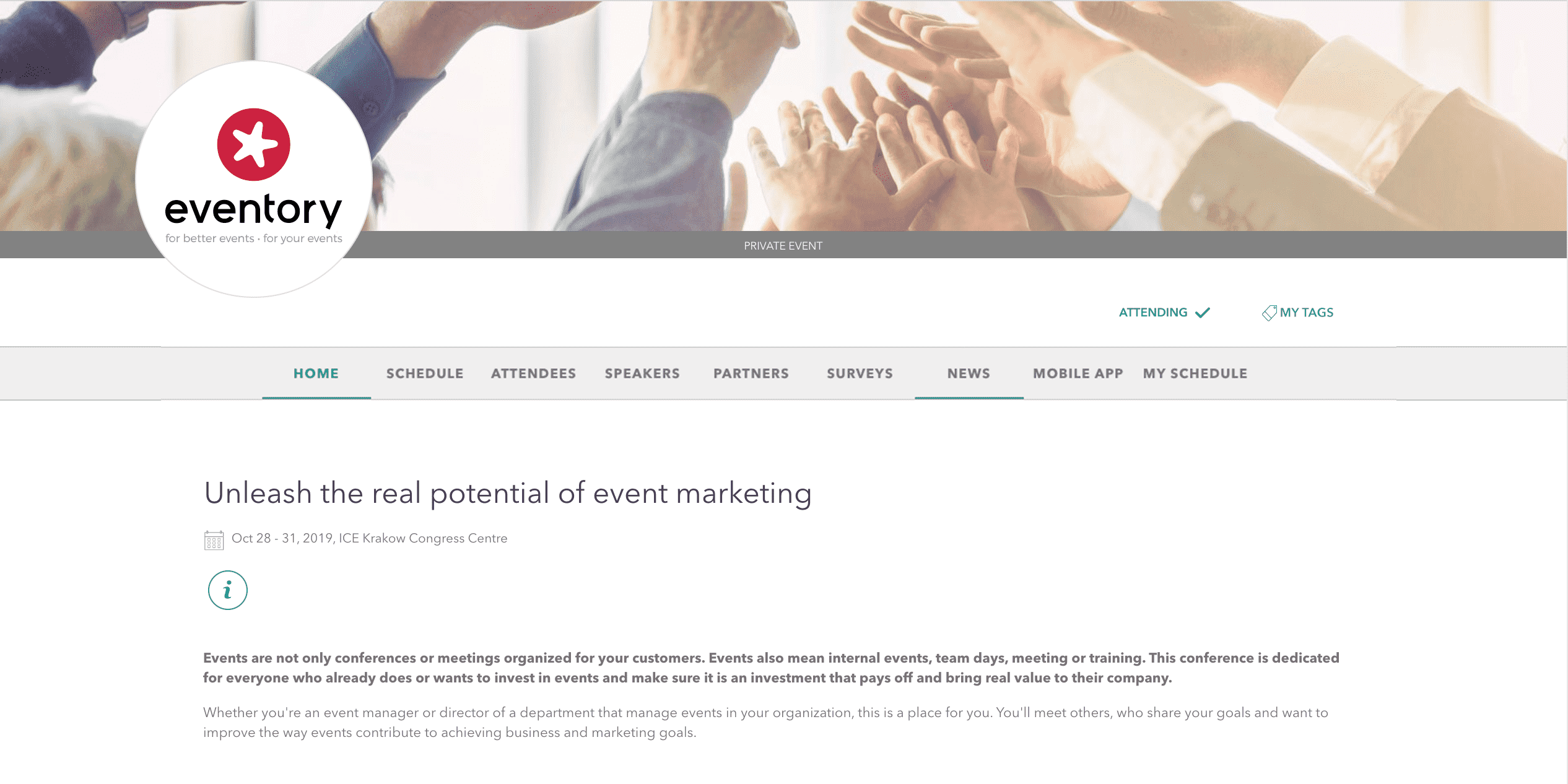 USEFUL INTEGRATIONS
Connect your CRM, communicators, spreadsheets with Eventory to fully integrate your marketing. Available API integration allows flexibility of solutions.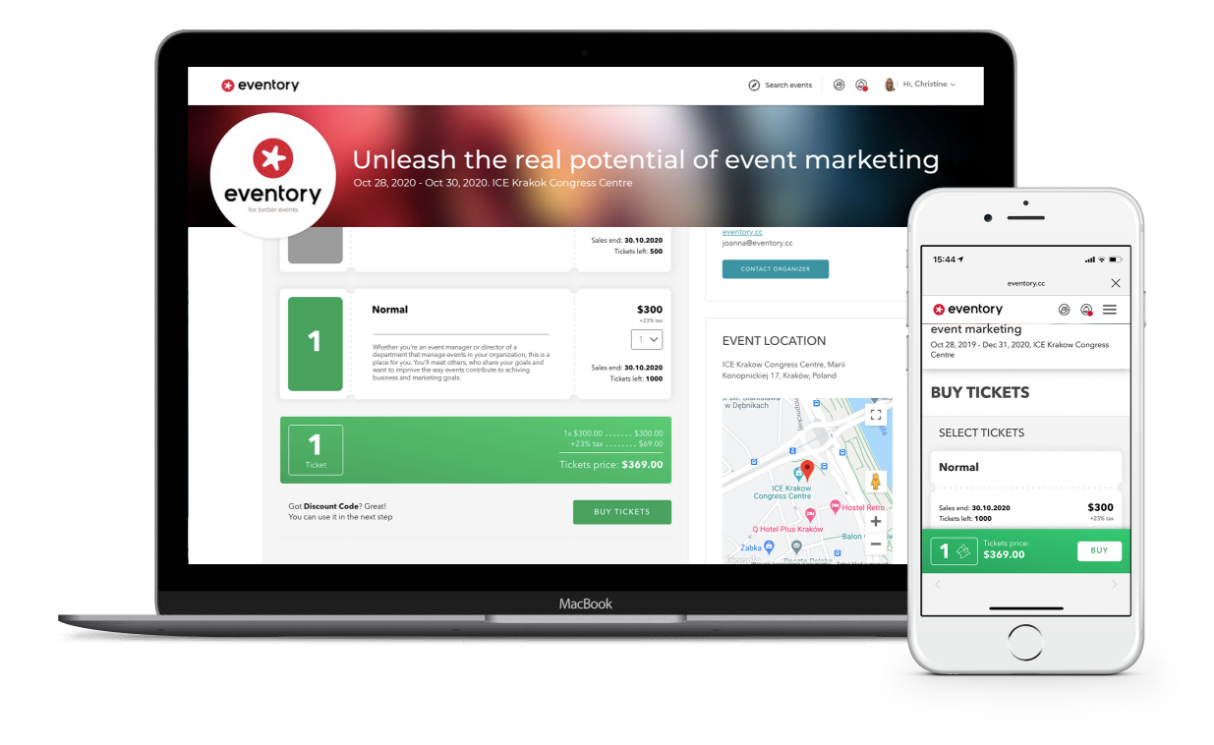 TICKETS AND REGISTRATION
Ticketing platform and registration is a part of your Eventory ecosystem - no need to search for external tools. Manage tickets, orders, discounts and check-ins in one place.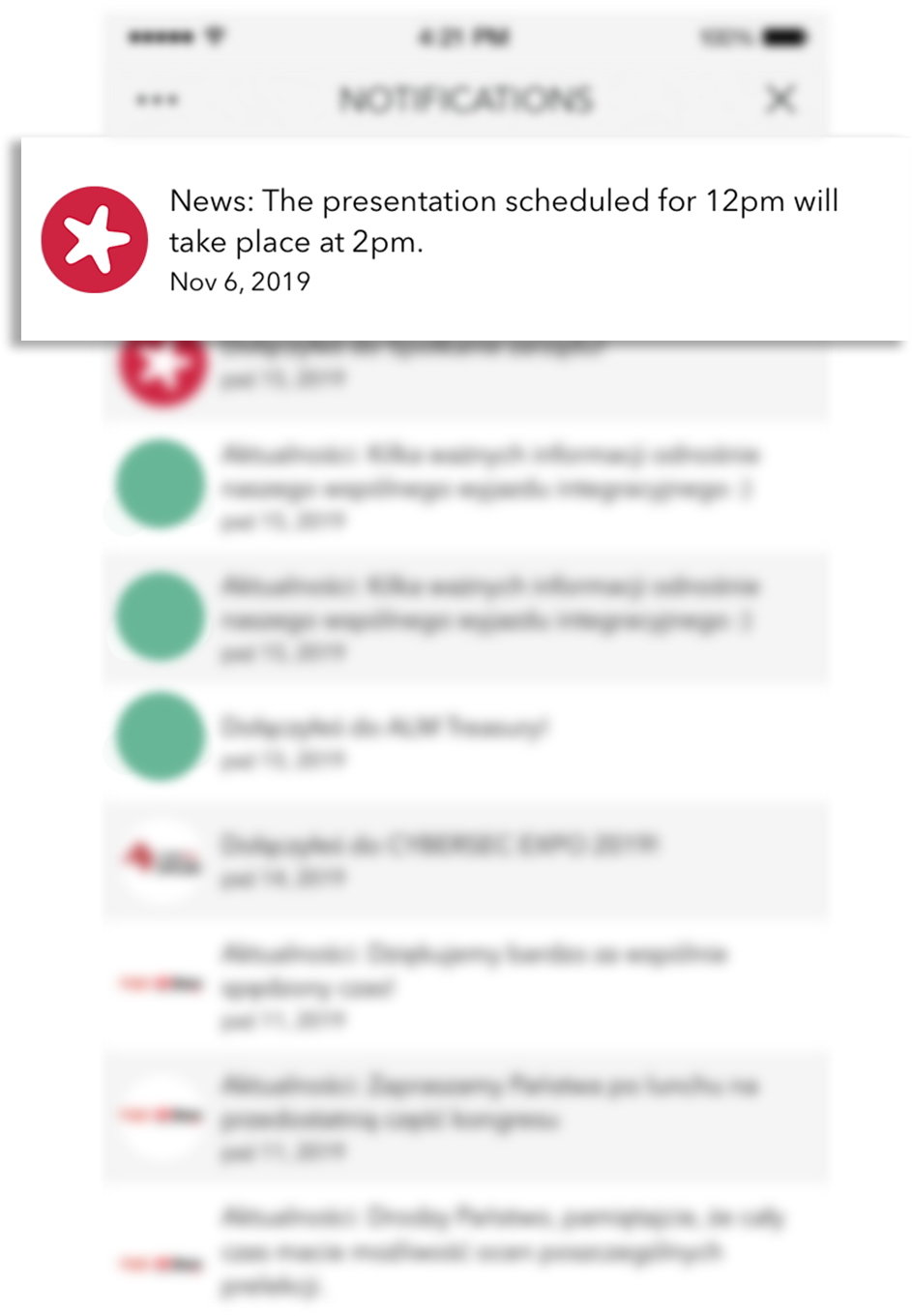 INSTANT COMMUNICATION
Keep in touch with your attendees at all times - inform them about last-minute changes and be sure that the information reaches everyone on time.

FRUITFUL NETWORKING (IN-PERSON & ONLINE)
Provide an active networking thanks to in-built messenger, arranging meetings feature and search attendee engine within the application.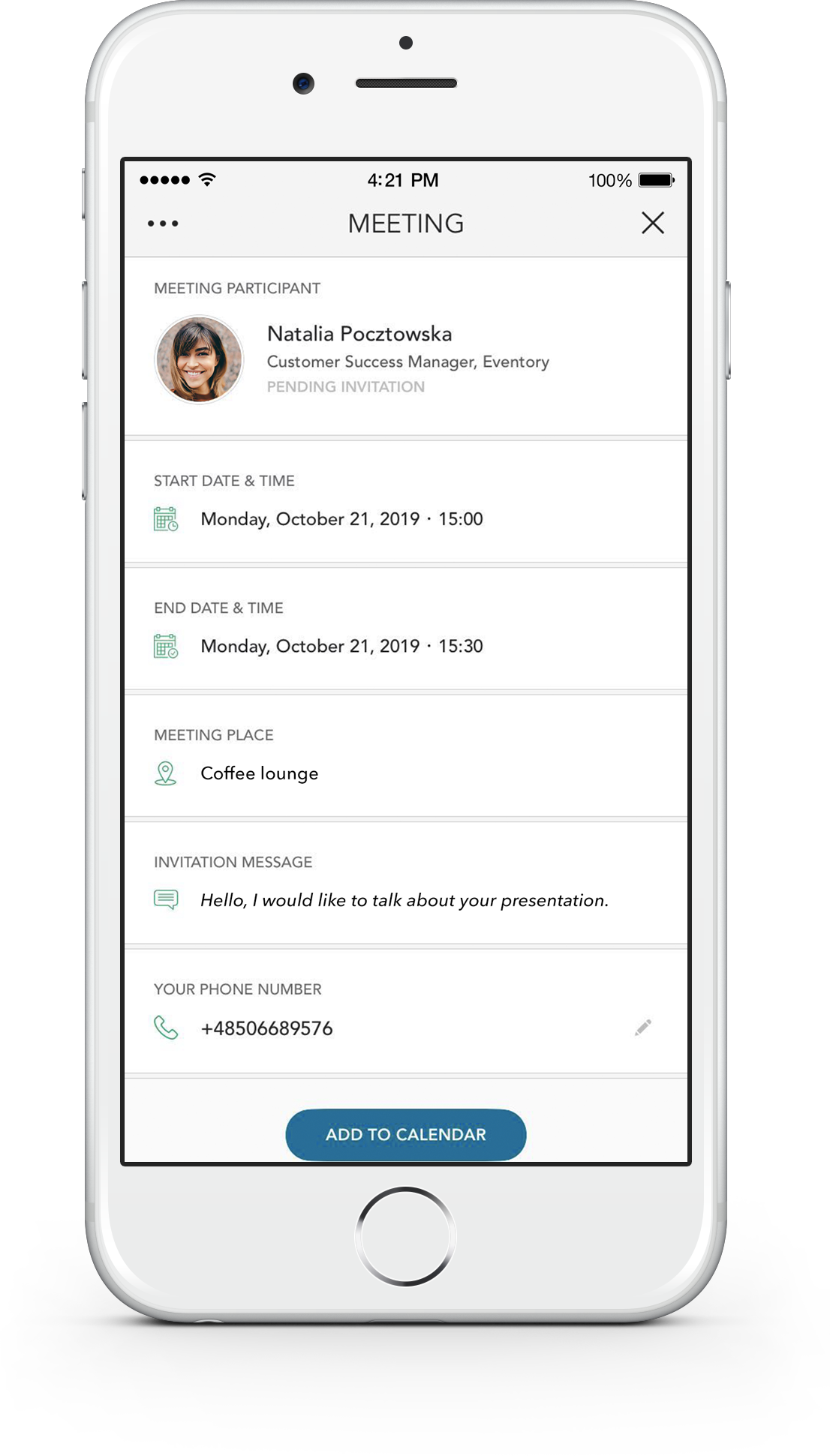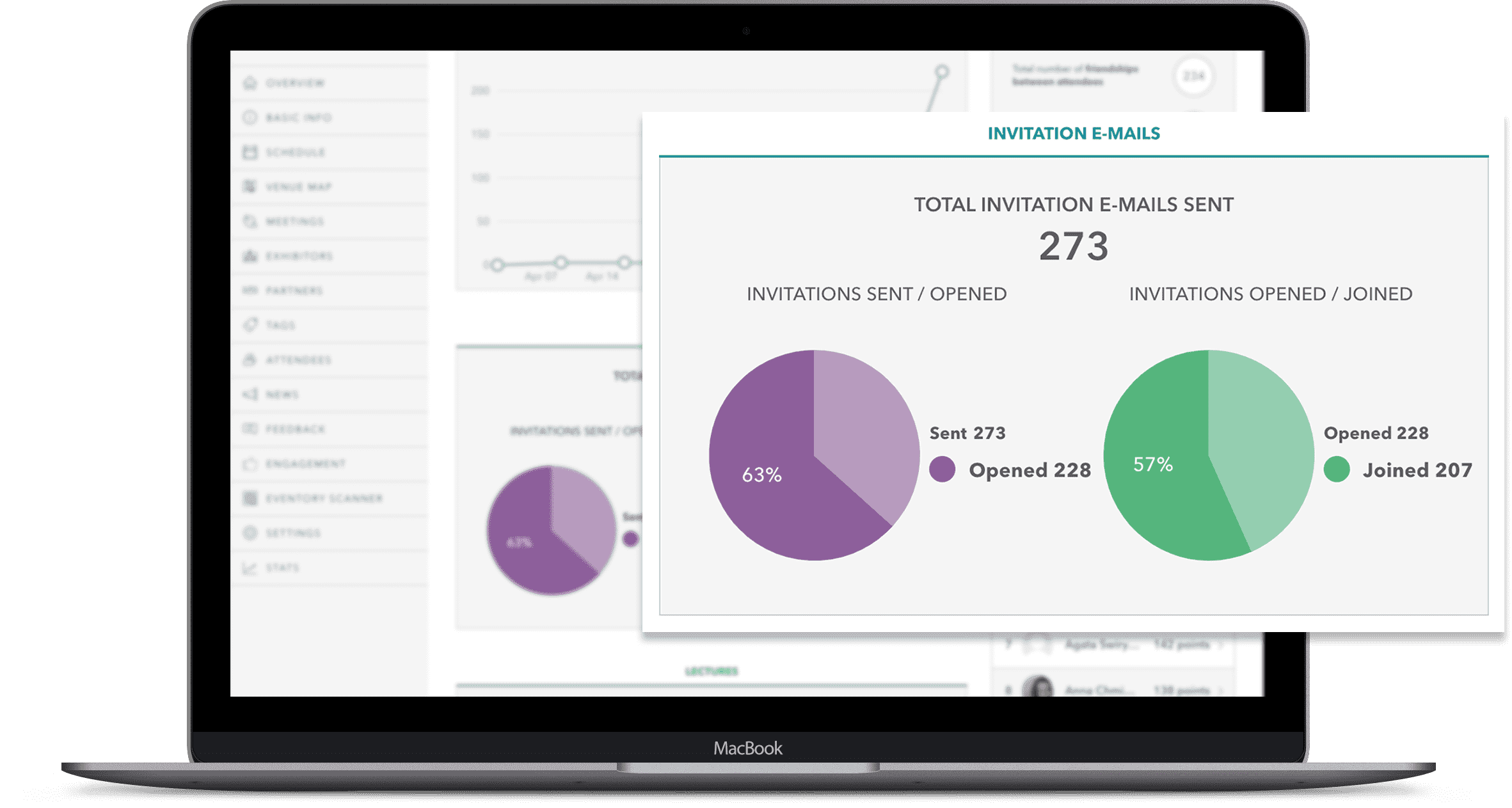 EMAIL CAMPAIGNS
Efficiently manage e-mail campaigns, send SMS invitations, monitor guest list and campaign results within the Eventory platform.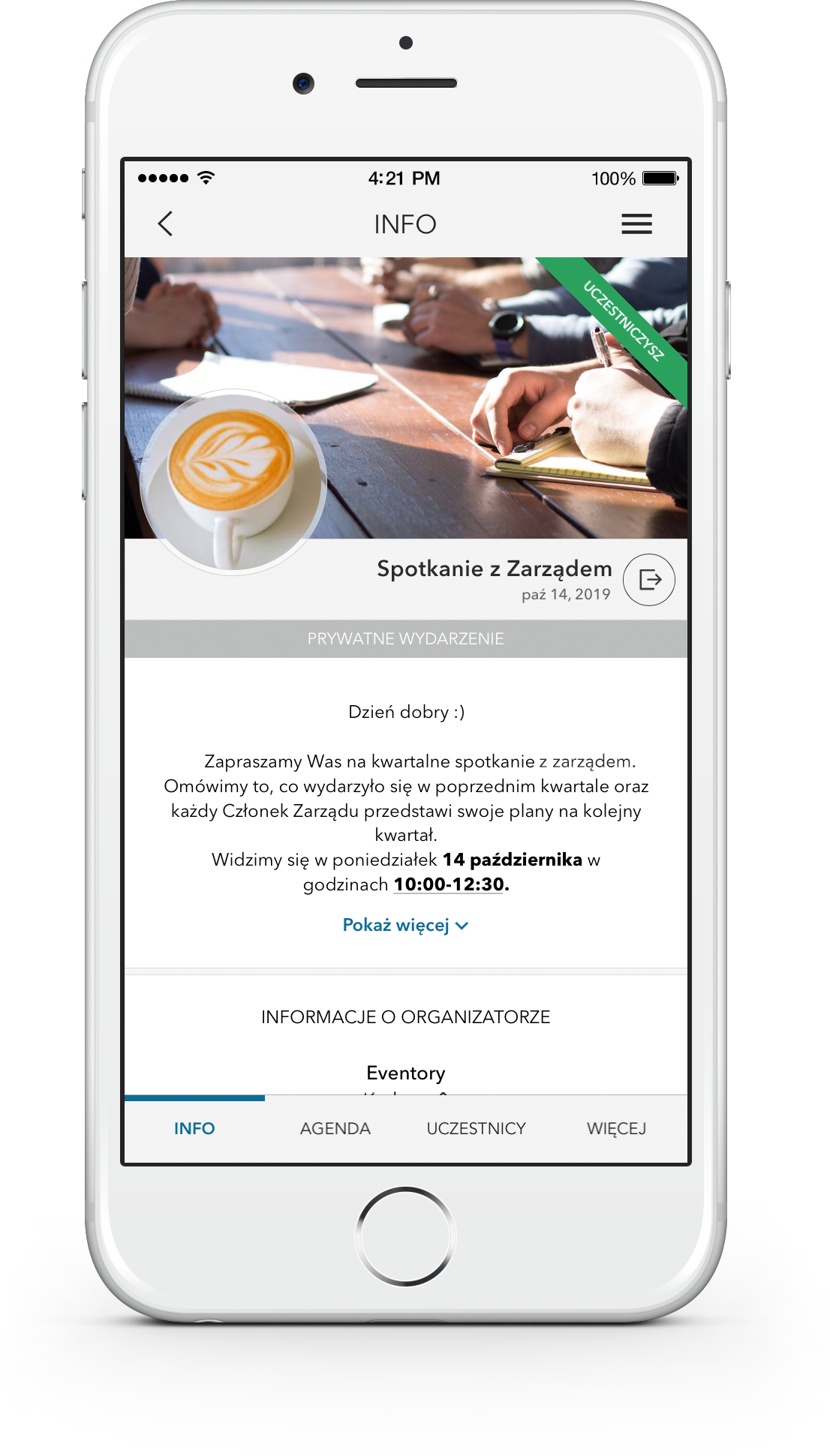 MOBILE APP
One handy mobile application for multiple events will provide your attendees with everything they need to actively participate in your events.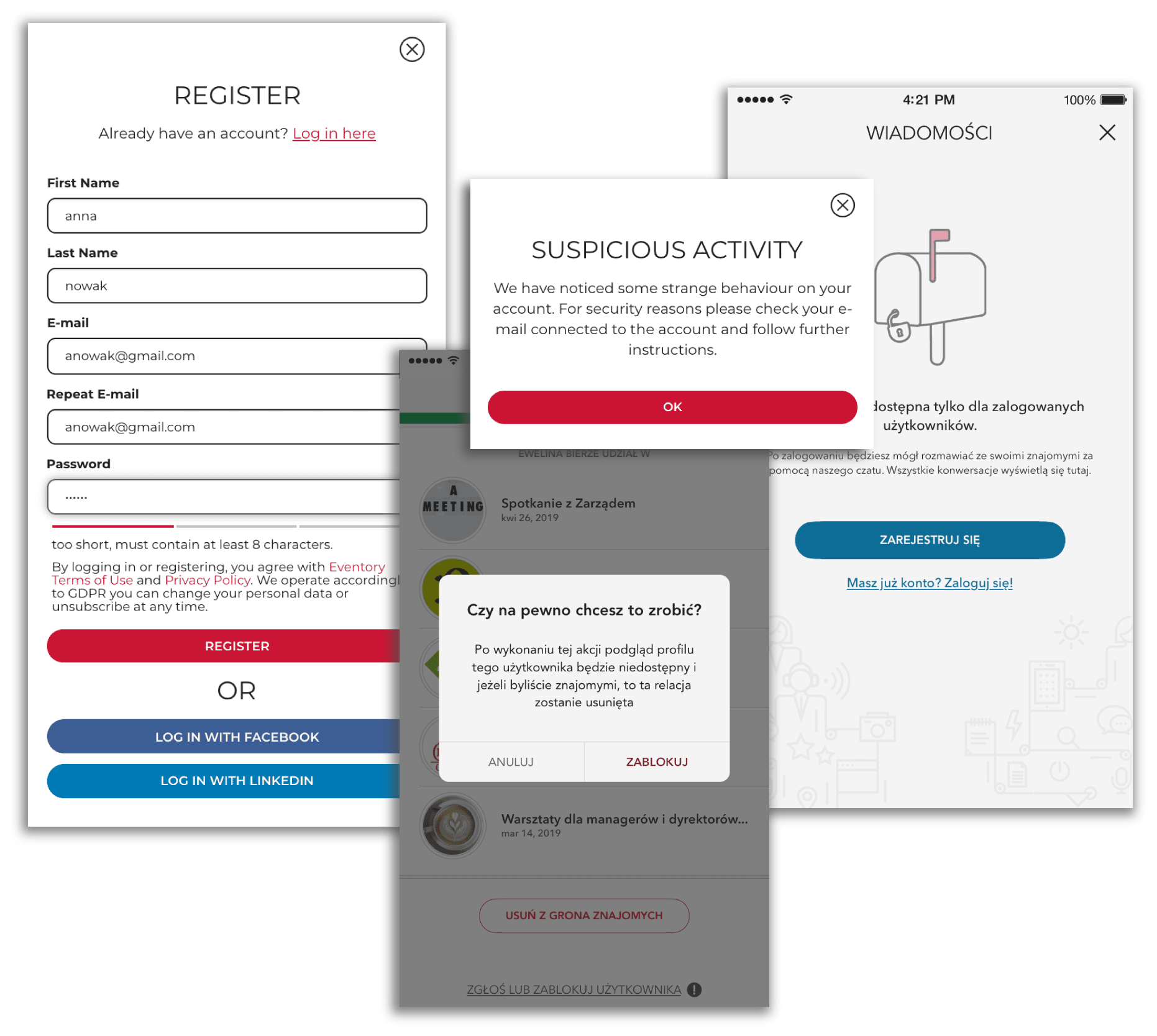 SECURITY BY DESIGN
We care about security at the early designing stages. Also, we passed a complete security audit so you get a guarantee of our solution's quality.

FAST LEAD RETRIEVAL
Collecting leads has never been easier. Gather virtual business cards with just a click and generate automatic reports right away.

DEDICATED SUPPORT
Your dedicated Account Manager who will help you with the platform implementation.
DISCOVER OUR CUSTOMERS' SUCCESS

Do you want to learn how Eventory supports you in dealing with event marketing challenges? See how we helped our partners increase their events' effectiveness and improve internal communication.
Mamy bardzo pozytywne doświadczenia z korzystania z Eventory. Aplikacja dobrze wpisuje się w nasz event z uwagi na swoją nowoczesność. Eventory pozwoliło nam na bieżąco komunikować wszystkie informacje o Falling Walls Lab Kyiv i Falling Wall Venture Kyiv 2016.
Anastasiia Bezhevets, Klitschko Foundation
Naszym uczestnikom szczególnie spodobała się możliwość przeglądania i sortowania listy uczestników, co w parze z wbudowanym w aplikację komunikatorem uczyniło networking znacznie prostszym. Dzięki wdrożeniu Eventory nasze wydarzenie zyskało nową jakość, która dobrze wpisuje się w potrzeby współczesnej kobiety biznesu.
Katarzyna Wierzbowska, Sieć Przedsiębiorczych Kobiet
Pomysł współpracy z Eventory narodził się, gdy członek komitetu organizacyjnego OEES miał przyjemność uczestniczyć w wydarzeniu, na którym poznał aplikację i jej możliwości. Jej główną zaletą był bardzo dobry stosunek jakości do ceny. Platforma była dla nas bardzo intuicyjna i przyjazna dla użytkownika.
Sylwia Zając, Fundacja Gospodarki i Administracji Publicznej
Wybór Eventory to był dla nas strzał w dziesiątkę. Jako organizatorowi konferencji platforma daje komfort pracy dzięki sprawdzonemu narzędziu i pozwala zyskać jeszcze więcej z każdego kolejnego wydarzenia.
Piotr Graszek, Konferencje Agora
Korzystanie z jednej aplikacji na wszystkich organizowanych przez nas wydarzeniach to dla nas ogromna wartość. Posiadanie agendy eventu w formie cyfrowej jest nie tylko wygodne, ale to także oszczędność kosztów. Z kolei wykorzystanie iBeaconów wyróżnia nasze wydarzenia na tle konkurencji. Tworzenie wyjątkowych doświadczeń dla uczestników jest niezwykle istotne, a Eventory jest ważną częścią tego procesu.
Łukasz Bromirski, Cisco Systems
Nasza współpraca z Eventory przebiegała bardzo efektywnie i zawsze, na każdym etapie projektu mogłam liczyć na wsparcie ze strony działu Customer Service. Wszystkie problemy były sprawnie adresowane i rozwiązywane. Co więcej cała komunikacja prowadzona była w przyjacielskiej atmosferze.
Elżbieta Rytel, Sii
Mieliśmy duże szczęście, że trafiliśmy na Eventory w chwili, gdy rozważaliśmy stworzenie aplikacji na nasz event w Warszawie. Od wydarzenia dzielił nas zaledwie tydzień i reaktywność, elastyczność oraz niezawodność zespołu była niesamowita. Co więcej ciężko jest wyrazić, jak intuicyjne i praktyczne to narzędzie jest. Każdy będzie potrafił się w nim doskonale odnaleźć. Liczę na dalszą współpracę z Eventory przy kolejnych wydarzeniach.
Jean-Yves Besnard, Accor Hotels
Eventory oferuje ciekawe możliwości interakcji pomiędzy organizatorem a uczestnikami wydarzeń. Jedną z największych wartości Eventory jest jego ogromny potencjał, stale rozwijany poprzez nowe funkcje platformy i aplikacji.
Sol Hallam, Aspire
Eventory znacznie ułatwiło nam życie. Platforma posiada wiele funkcjonalności (agendę, mapę miejsca wydarzenia, informacje o prelegentach), które są wygodnie zebrane w jednym miejscu. Aplikacja wspiera komunikację i pozwala na sprawne przekazywanie wiadomości uczestnikom w formie powiadomień. Bardzo nam się podobało, że mogliśmy dotrzeć do bazy odbiorców spoza listy naszych użytkowników. Polecam tę platformę dla każdego eventu bez względu na jego wielkość. Dobra robota, Eventory!
Grzegorz Borowski, infoShare Foundation
Stworzenie wydarzenia w Eventory jest bardzo łatwe i właśnie to sprawiło, że zdecydowaliśmy się na to rozwiązanie. Nasi uczestnicy także bardzo dobrze ocenili całość swojego doświadczenia z aplikacją począwszy od jej pobrania, poruszania się po narzędziu, kończąc na dzieleniu się swoimi opiniami. Eventory ułatwiło nam pracę!
Aditya Shah, Skillfest
Z początku wybraliśmy Eventory z uwagi na jakość aplikacji, ale bardzo szybko zostaliśmy oczarowani rewelacyjną obsługą klienta. Mieliśmy pełną opiekę świetnego zespołu, który zajął się wszelkimi zadaniami związanymi z zarządzaniem aplikacją. Każdy event manager wie, jak bardzo wartościowe jest takie podejście.
Krzysztof Jędrzejewski, Venture Day
Współpraca z Eventory w pełni spełniła nasze oczekiwania, a jednocześnie byliśmy pozytywnie zaskoczeni. Platforma dostarczyła nam wszystkiego, czego mogliśmy chcieć. Mamy kilka sugestii dotyczących funkcjonowania narzędzia, natomiast z pełnym przekonaniem można powiedzieć, że Eventory łączy świetny produkt z rewelacyjną obsługą klienta.
Bernard Schopfer, MaxComm
Tworząc dziesiątki wydarzeń rocznie posiadanie jednej aplikacji na wszystkie aktywności jest kluczowe. Eventory pozwala nam tworzyć wyjątkowe doświadczenia dla uczestników każdego z naszych eventów, monitorować ich preferencje, komunikować istotne informacje i zbierać feedback, który pozwala nam organizować jeszcze lepsze wydarzenia.
Jakub Kozioł, Proidea
LEARN MORE OF EVENTORY TOOLS

EVENTORY PLANNING
A platform for managing processes and planning your event attendance.
DISCOVER EVENTORY'S VERSATILITY
Events are not only conferences or shows organized for the company's customers. It's also internal team meetings, employee team building, board gatherings and corporate trainings. Eventory is a tool for special tasks, for our team nothing is impossible - together we build your success!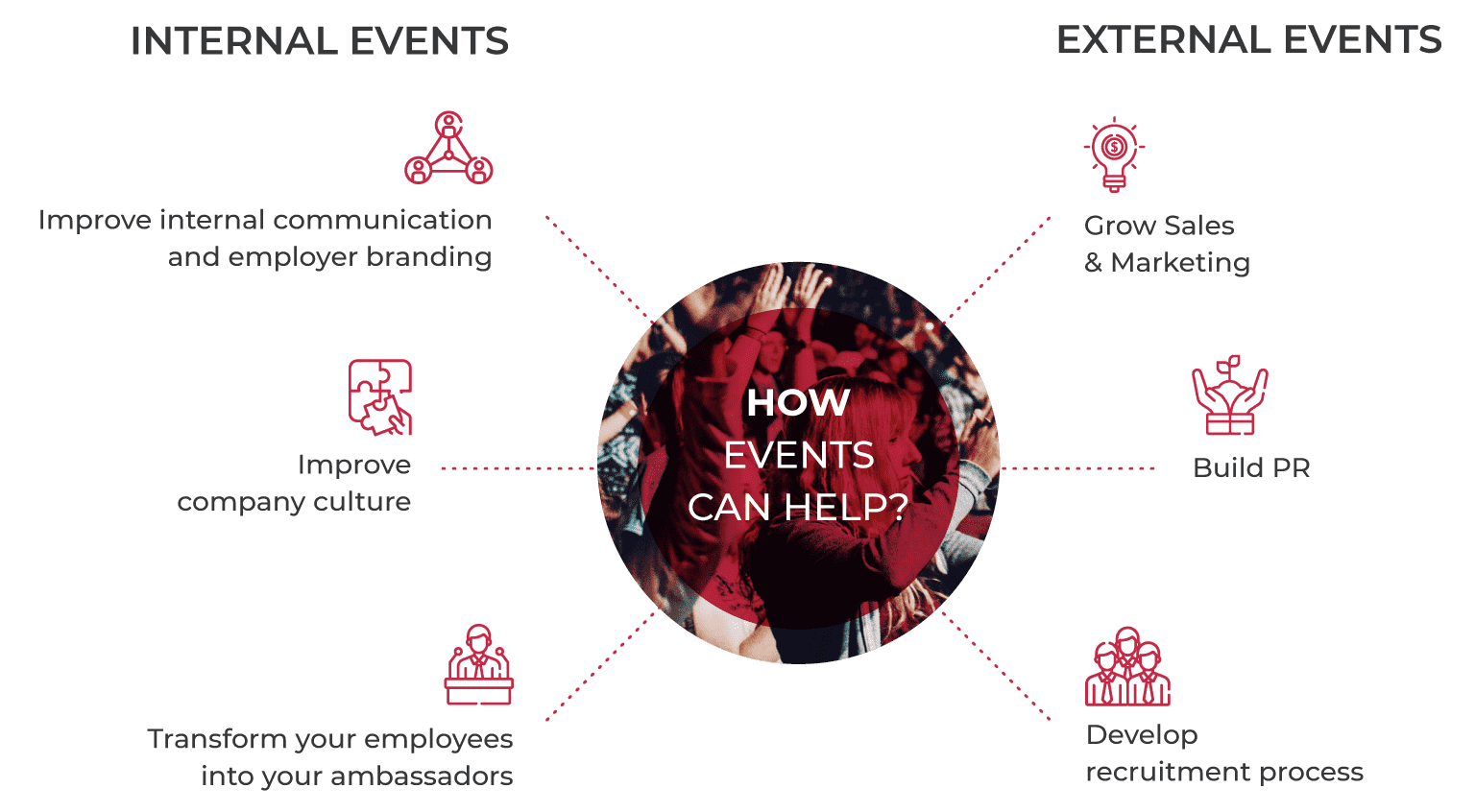 Ready to take your event to the next level with Eventory? Just drop us a line!